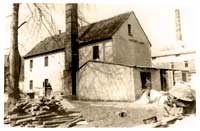 Artistic Ceramics WISA was founded in 1963 by Stanisław Wiza, a ceramist-modelist. Originally it was a small company, a craftsman's workshop, employing several workers.
Every year, the company has developed, improved its technological processes and expanded its decoration and assortment. From the very beginning, the plant has been housed in the building of the pre-war "Silesia" factory, part of the Kuno Steinmann porcelain concern. The founder's great passion for creation has contributed to the current development.
The first decades of activity were based on the production of ceramics with brown and patina glazes. The glazes covered vases, ashtrays, decanters, and glasses. With time, the assortment was extended by elegant coffee sets decorated with cobalt and gold.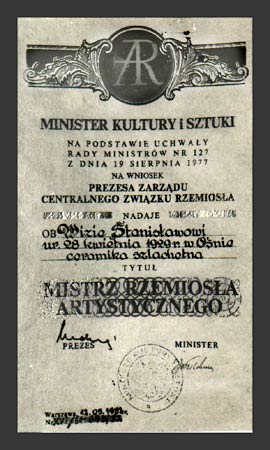 The projects and their implementation was supervised by the founder of the company, Stanisław Wiza. In the 1980s, the production of the plant became dominated by table, kitchen and decorative products decorated with stamps, referring to the historical Bolesławiec stoneware. In the beginning, they were modelled on traditional patterns, and gradually were replaced by their successful projects. Thanks to a thriving promotional campaign, beautiful kitchenware quickly gained popularity among American and German customers.
In 1997, the family company was among those nominated for the Lower Silesian Key of Success Award. The intensive development of the plant took place in the years 1999 – 2000, when the craftsman's workshop was transformed into a limited liability company, in which, apart from Stanisław Wiza, his two daughters, Lidia and Przemysława, became shareholders. Systematic development of the company through its modernisation and the resulting increase in production, allowed to gain new markets. Today, our ceramics can be bought in Europe in such countries as England, Ireland, Denmark, the Netherlands, Germany, Italy, Switzerland, France, as well as in the USA, Canada, Korea and Japan.